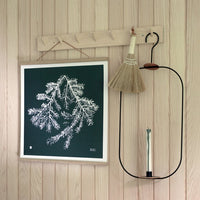 SPRUCE BRANCH POSTER - forest green
Description
Artist's notes
Bring a piece of forest to your home with this beautiful Spruce branch art poster.
The forest green Bruce Branch print looks brings the feeling of the forest to your home. It has been printed using the ancient Asian 'gyotaku' method. The art print is printed on high-quality FSC certified paper and it has a white frame. Each product is checked manually to ensure superb quality.The wall art is sold unframed.
Made in Finland. 
This ancient Asian printing method is such a fascinating way to record memories and experiences in the wilderness. In this method, ink is applied directly on the natural subject, which is then rubbed on or pressed against paper to create the picture. The method captures fishes and plants extremely delicately, repeating even the tiniest little details such as fish scales, and stems and veins of a plant.
repack
We send all orders with RePack circular packaging. This packaging can be used several times again and again. With this packaging, you can also send us to pack the garments that you don´t wear anymore and can gain store credit to use at your next purchase.
be with us
We are concept that brings your everyday lifestyle with values.