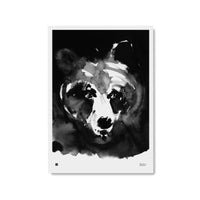 Description
Details

Artist´s notes
The Mysterious bear art print is printed with a white border that beautifully frames the image. The black and white art print is easy to match with both colourful and minimalistic style.
The poster is printed on high-quality off-white paper, which is FSC certified for responsible forestry. The poster is sold unframed. Made in Finland. Each product is checked manually to ensure superb quality. Pair the poster with our oak frames for a soft, natural look. This poster is a perfect match with 50 cm poster frames.
Size 50x70cm
The sacred Bear, king of the forest, was believed to be a supernatural creature. Born in the heavens, it was thought that the bear would die in the fall and be reborn when it emerged from its den in the spring. I find bears just as magical.
repack
We send all orders with RePack circular packaging. This packaging can be used several times again and again. With this packaging, you can also send us to pack the garments that you don´t wear anymore and can gain store credit to use at your next purchase.
be with us
We are concept that brings your everyday lifestyle with values.